Notification of hydrogen generation with hydrogen signal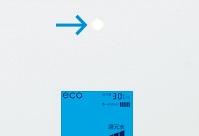 When the electrolytic hydrogen water is generated, the hydrogen signal on the LCD screen blinks to inform you of the hydrogen generation. When the hydrogen concentration is high, the blinking speed is fast, and when it is low, the blinking speed is slow.
Save power with eco switch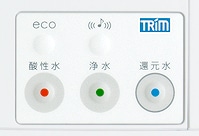 You can use the eco switch on the top of the main unit by switching to the power saving mode (* electrolytic current about 70%, power consumption about 50% compared to our company). This function is effective in hard water areas and when the amount of water is small and the pH value of electrolyzed hydrogen water rises too much. In addition, the standby power consumption is low at about 0.5 W, and it is an eco-friendly water conditioner that can always save power.
Removes 13 substances specified by JIS standard and 6 substances voluntarily specified by the Water Purifier Association with micro carbon cartridge

The micro carbon cartridge is composed of a porous carbon material with innumerable fine pores inside, and it adsorbs dissolved substances quickly, and it even removes fine particles such as turbidity. With the new molding method, it is possible to remove 13 substances specified by JIS standard and 6 substances specified by the Water Purifier Association voluntary standard using only micro carbon. In addition, the filter material is not easily clogged and water flows easily.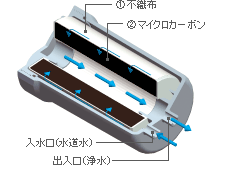 (1)
A porous sheet in which non-woven fabric fibers are laminated and bonded in a three-dimensional structure. Larger particles are first removed in this area before passing through the microcarbons.
(2) Micro carbon (very small activated carbon)
Our micro carbon cartridge uses NSF-certified activated carbon (our joint development).
[NSF certified activated carbon manufacturer / product number] -Kuraray Co.,
Ltd./T-SCO 60 / 150THM
-Futamura Chemical Co., Ltd./CN8200G
What is NSF authentication?
It is a standard for public health and safety established by NSF International, a non-profit organization related to public health and safety that is globally recognized, and must pass strict tests for certification.
Clean water cartridge filtration capacity (total filtered water: all 7t)
* Test results according to JIS S 3201 test method and voluntary standards of Water Purifier Association (test filtration flow rate 3L)
13 substances specified by JIS standards
1
Free residual chlorine (calcium)
8
Tetrachlorethylene
2
Turbidity
9
Trichlorethylene
3
Total trihalomethane *
Ten
1,1,1-trichloroethane
Four
Chloroform
11
CAT (pesticides)
Five
Bromodichloromethane
12
2-MIB (moldy smell)
6
Dibromochloromethane
13
Soluble lead
7
Bromoform
* Total trihalomethane is a generic term for the above 4 to 4 substances.
Water purifier association voluntary standard 6 substances
1
Geosmin (moldy smell)
Four
Carbon tetrachloride
2
Phenols
Five
benzene
3
Anionic surfactant
6
Cis-1,2-dichloroethylene and trans-1,2-dichloroethylene
・ The replacement time of the water purification cartridge varies depending on the amount of filtered water, the quality of the water, and the water pressure.
・ The notification of replacement time will be displayed about one year after the first use. Also, if the total water flow reaches about 7t, it will be displayed even within one year. If it is displayed, replace the cartridge.
Notification of replacement time and abnormality of water purification cartridge
It is a safe and secure function that manages the information of the water purification cartridge by wireless communication and informs you when the time to replace the cartridge is yellow, and when there is an abnormality, the screen lights up in red.
Notification of generation of electrolytic hydrogen water with melody & lamp

While the electrolytic hydrogen water is being generated, music will be played by the melody IC to inform you that electrolytic generation is in progress. The electrolysis hydrogen water is blue, the purified water is green, and the acidic water is orange.
Saving water resources by controlling the amount of wastewater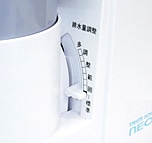 The lever can be easily operated to adjust the intake balance of electrolytic hydrogen water and waste water. Also, the concentration of electrolytic hydrogen water can be adjusted by adjusting the amount of drainage.
(Standard setting intake water discharge rate = 5: 1)
Up to 4 L of electrolytic hydrogen water intake per minute
TRIM ION NEO is compact but high performance. Since the rated current is set to 4.5A (max) and the capacity is set large, a maximum of 4L of electrolytic hydrogen water can be taken in 1 minute.
* When the main body water pressure (dynamic water pressure) is set to 180 kPa and the intake and drainage ratio = 5: 1
Mounting adapter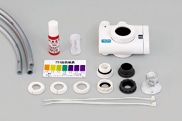 Since 7 types of adapters are set, you can easily install it with a general faucet.
Effective use of electricity in high-efficiency electrolyzer
By adopting a multi-layer electrolytic cell divided into 4 layers and 8 cells, the efficiency of electrolysis is increased and electricity is used effectively.
Divergence faucet equipped with safety function
When the water pressure is high or the flow rate of water is excessive, water will come out from the warning valve of the branch faucet to inform you.